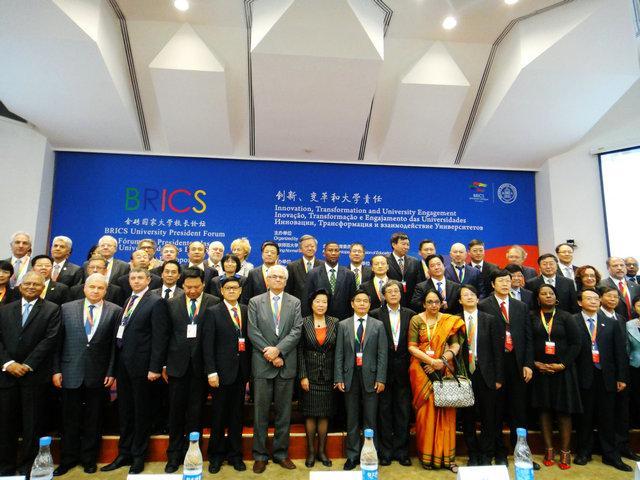 On October 17th, the University Presidents Forum for BRICS was held at Beijing Normal University and Vice President of HIT Ren Nanqi attended the Forum.

Yuan Rengui, the Minister of Education, the Brazilian, Russian, Indian and South African ambassadors to China, Ma Zehua, Chinese Chairman in Business Council of BRICS, and the congressman of South Africa were present at the opening ceremony of the Forum and delivered speeches.
During the Forum, the presidents had a heated debate on issues related to innovation, transformation, university engagement, and cooperation of universities among BRICS. At the BRICS University Presidents Roundtable, Ren Nanqi stressed that as the source of intellectual training, technological progress, and inheritance of civilization in a nation, universities should exchange ideas with each other, learn from each other, embrace the whole world, and display every university's strengths and characteristics, especially in this cooperation and global information age. HIT will play an active role in the establishment and development of BRICS University League and promote the cooperation and communication between universities in the League. He also advised that mechanisms for regular science and humanity communication based on the League should be established, which include scholarships for the talented in BRICS, the competition of entrepreneurship and innovation for youth, and academic exchanges between researchers. After three rounds of roundtable meetings, the university presidents of over 50 renowned universities from Brazil, Russia, India, South Africa, and China signed the Beijing Consensus. According to the Consensus, universities and research institutes from BRICS should strengthen trust and understanding across the world, make tireless efforts to promote communication between different civilizations, enhance solidarity and cooperation, vigorously promote environmental protection, raise the level of student exchange programs, and bridge the gap between young students from different countries. There will be a platform for intellectual training and academic cooperation which is conducive to scientific research and higher level education. Through joint research, the BRICS will obtain more intellectual support to tackle international affairs concerning the interests of BRICS and deal with economic and political changes. The relationships between BRICS will be closer.
During the Forum, Ren Nanqi also had a meeting with the ambassador of Russia to China Andrey Denisov and the president of Ural Federal University Koksharov successively and gave them each a Memorial Album of the Association of Sino-Russian Technical Universities During the War on anti-Fascism as a gift.